About Fanna

Fanna Easter has been instructing dog training group classes and in home behavior consults for over 26 years with a special focus on dog reactivity (fearful and anxious dogs) and super excited dogs.
When not working with clients and their dogs, Fanna writes for Dog Training Nation as a lead contributor, authored several articles for Dogs Naturally Magazine, Animal Wellness Magazine and numerous online blogs. She's also an Education Specialist for Animal Behavior College, one of the largest dog training school in the US. If that's not enough, she's earned multiple nationally recognized dog trainer certifications in behavior and also pursing her undergraduate degree in behavior.
Currently, Fanna teaches reactive dog group classes at Veterinary Behavior Solutions- The Training Studio,  and offers private lessons in home or off property.
Fanna shares her home with Miss Stella Mae (Miniature Bull Terrier) and Sobek (Rottweiler), and Rick, her darling hubby. She's shared her home with Bouviers, Rottweilers, Shepard mixes in the past and yes, these breeds are not for the faint of heart. 🙂
Fanna's Past Experience:
For 5 years, Fanna was Petco's National Dog Training Expert. Fanna and her team developed, launched, and lead a new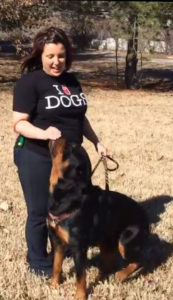 positive reinforcement training program nationwide for over 1,500 Petco stores. Also, she created and executed positive training seminars, materials and online training for over 2,000 Petco dog trainers. While in this position, she made it her life mission to bring positive-only training methods into a large pet specialty store chain.
National Certifications & Professional Memberships:
Certified Pet Dog Trainer (CPDT-KA) since 2003
Dog Behavior Course Graduate, Purdue University
Primary Tag Teach Certification
Certified In Pet Massage
Adoption Coordinator, Southern States Rescued Rottweilers